A free, 10 week, part-time course by Edventure:Frome offering 19-35-year-olds the opportunity to gain real-life experience of setting up a community enterprise in response to a local need on behalf of a local not-for-profit.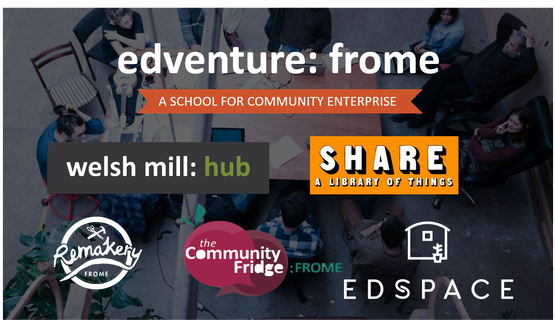 Past Challenges:
Please click here for a 4 minute video of a typical Edventure: Start-Up Challenge. 
Previous student teams have started-up: 
This Challenge:
…will be to create a community bike workshop for Frome. Somewhere for local people to learn/share skills, to repair, maintain and refurb bikes.
The aim is to get more people in Frome on two wheels more often, and to bring people together, to upskill people, cut carbon emissions, save land-fill waste and create meaningful employment opportunities.
Your team could put together all kinds of different programmes, from refurbishing bikes for resale, to offering drop-in repair services and bike MOT sessions.
The project is a partnership between Edventure, Critchill School and their Bike Shed, Frome Town Council, Frome Missing Links, and other groups.
Who we are looking for:
Are you up for a challenge? Do you learn best by doing? Do you want to make your ideas happen?
We're looking for people who are open to working with others from diverse backgrounds and want to learn from each other as much as from the course. It doesn't matter whether you've finished studying at University or dropped out of college, whether you are 18 or 35 years old, whether you are unemployed or want to make a career change.
This course could be of particular interest if one or more of the following:



interested in starting up or working within a business or social enterprise.



keen to work within the community sector and want to develop leadership and facilitation skills.



up for trying new things and making something positive happen.



We are looking forward to hearing from anyone who feels that they can both learn from the experience, and bring skills and passion to the project. 

Fees:
There is no fixed course cost, but it isn't free either. Once you have received a conditional offer after the interview, your challenge will be to help raise funds and resources for the start-up you will be working on. You can set your own target as to how much you think you are able to raise (dependent on circumstances, your support network etc). 
Dates and times:
Start-Up runs for 10 weeks on Monday-Thursday from 9.15am-2.45pm. You will also need to be available for a 3-day residential trip.
Apply:
Please apply by clicking the green "register" button. You'll receive an autoresponder email. Scroll to the bottom and find the link to arrange an informal interview so that we can confirm whether we can offer you a place. Places are given on a rolling basis – apply early for the best chance to get a place. 
What previous Start-Up students say
Please click here for a 3.5 minute video featuring previous Edventure: Start-Up students.
Facilitator:
Amelia Parisian 
Amelia is Edventure's Programmes Lead. She has 12 years experience of facilitating groups and workshops. She is passionate about community-based education, intergenerational learning and making things happen!