Frome Food Network – Garden Visit & Meet Up at Broadway Community Gardens
Frome Food Network – Garden Visit and Meet Up at Broadway Community Gardens in Frome
Join the Frome Food Network visiting growing projects in and around Frome each month, this summer and autumn.
This meet up is visiting Broadway Community Gardens in Frome
A scheduled food network drop into the Broadway Community Gardens site in town.
Last time we visited back in the winter of 2021, BCG faced an uncertain future — was it going to fall into the hands of the community to be used as an peaceful outdoor and growing space? Or was it going to turn it into housing?
Fortunately, Frome Town Council stepped in and saved the day. So it's a good time to catch up – what plans are afoot to help the local community exercise their green fingers? What will happen to the resulting produce? And how can BCG attract more people onto what is a rather unintentionally secret site?
No booking required this time, so just turn up. Feel free to meet everyone there at 10am (via the entrance on Oakfield Road) or email hugh@fromefoodnetwork.co.uk if you need help finding it or getting there.
About the Frome Food Network
Inspired by a report comissioned by Frome Town Council, Who Feeds Frome?, and under the incubation of Future Shed, the Frome Food Network (FFN) was founded by food journalist Hugh Thomas in September 2021.
It has since grown into a collective of more than 160 members, the majority of whom are key stakeholders in the local food landscape – from market gardeners and retailers, to processors and restaurateurs.
The FFN's key principles include localism, community, the circular economy, sustainable and regenerative farming, good health and nutrition, and traceability.
FFN seeks to form closer bonds within the local food and farming community, and between this community and local citizens. In early 2023, we came into residence supported by Green & Healthy Frome and Edventure's Future Shed, to further these goals.
To join or tap into the network, or learn about local ideas, projects, and opportunities related to food, email hugh@fromefoodnetwork.co.uk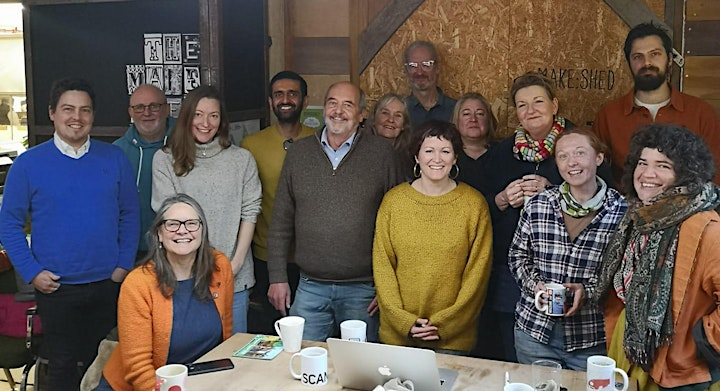 Mailing Lists:
Edventure Frome uses MailChimp as our marketing automation platform. By registering for this event or joining the waitlist, your email will be added to Edventure Frome CIC's mailing list, which you can unsubscribe from any time. Your contact information will also be shared with our event partners, for the purposes of communication about this event. We handle and process personal data in accordance with the Data Protection Act 2018