Future Shed Friday
Future Shed Fridays – A welcoming, weekly space to help bring green and healthy initiatives to fruition.
Future Shed is about:
Ideas and connections, collectives and enterprise – we are cooking up ideas and ventures to make real change around climate and wellbeing. This is a space to meet up, connect and build relationships to effect change. Come with your own idea, or join someone else's. It doesn't matter what stage you're at, whether you're already in the thick of a venture or just toying with an idea, or you're passionate about making a difference but not sure where to start? Everyone's welcome.
Future Shed timings:
9.30am – 1.30pm : Open for co-working and connecting – Future Shed Lead (Sue Palmer) available to connect with you about ideas and opportunities.
10am -11am: Meet Up – informal chat around the table to discuss the ideas and connections in the room and any support that can be offered from the Future Shed team. (You don't have to join in with this – continue co-working if you like). Come at 10am to find out what Future Shed is about and connect.
Co-working: use our professional co-working space and our workshop / makerspace and meeting room – for free. Our facilities include fast WiFi, fabulous ethical teas and coffee, and desks with beautiful plants.
Further support from Future Shed on offer:
🌱 free 121 coaching from a qualified social enterprise coach with a wealth of experience of starting social enterprises and community projects in Frome and beyond.
🌱 free 121 support to access funding from a Frome-based professional fundraiser with 25 years experience of working on both sides of the fundraising fence.
🌱 making connections with others across Frome who are focusing on wellbeing and climate action, who could help you open new doors, learn new skills and move your idea on a step.
If you'd like more information about what the Future Shed offers, contact Sue via sue@edventurefrome.org / 07434 898059.
As this is a National Lottery Funded project in partnership with Frome Town Council and Frome Medical Practice, we have criteria we need to meet. Most projects and ideas fit into the offer, but occasionally (especially for projects directly focusing on health) we will need to discuss your idea to ensure it fits! Contact us with any questions you have.
Why 'Future Shed'?
The 'shed movement' is about people meeting up in a space to share skills, helping each other to fix, repair and create. Our 'shed' is about the Future – our shed is about ideas, energy, creativity and connection. Our 'shed' is about meeting up to build relationships, start ups and growing initiatives . We can also use it as a space for practical making. It is a space where people come together to share ideas and bring green and healthy initiatives to fruition.
Future Shed is a project by Edventure: Frome as part of the Green & Healthy Future for Frome project in partnership with Frome Medical Practice and Frome Town Council. It is funded by The National Lottery Community Fund.
Future Shed Friday sessions are hosted by Sue Palmer (Future Shed Lead).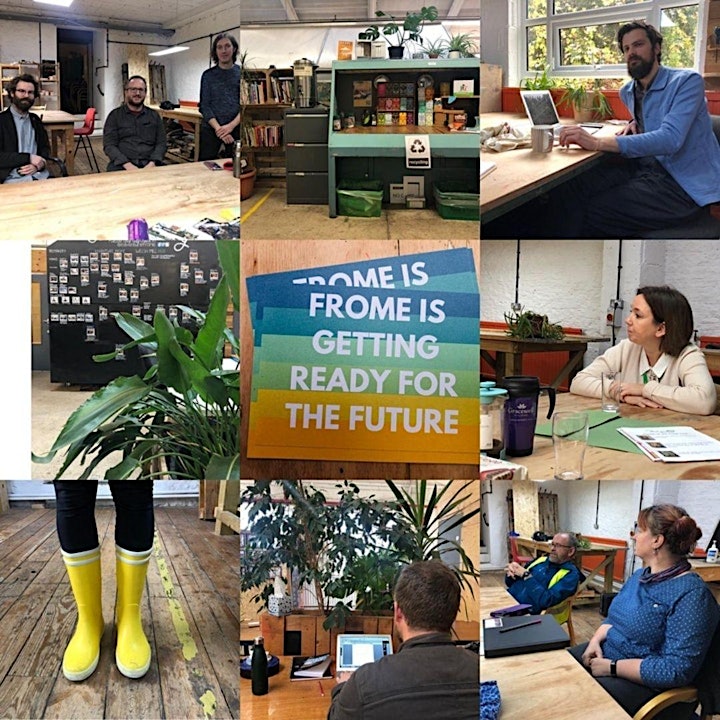 Facilities:
The Welsh Mill Hub is Edventure's professional shared workspace and community venue. It includes The Cave meeting room and Remakery: Frome – a community workshop for fixers, makers and do-ers.
Accessibility:
We are aware that the Welsh Mill Hub is impossible to access for wheeled users, and we apologise for this. Due to the age and design of the building, we currently have barriers that will affect access for some. The Welsh Mill Hub is accessed via two short flights of stairs (around 12 steps in total with a turn). There is no lift available. There is no accessible toilet. Fire Exits in the building are stairs.
We are currently improving the bike lock up racks at the Welsh Mill, so bike parking is limited at the moment.
Please contact us to discuss access needs and we will do our best to help.
Covid safety policies/procedures:
We have limited places available in person during these sessions to allow us to operate safely within The Welsh Mill Hub's Covid Risk assessment. The space is well ventilated. We may request that attendees wear masks when entering and moving around the building and wash or sanitise their hands regularly throughout the event.
If you would rather connect or join via zoom, just let us know and we will make arrangements – contact sue@edventurefrome.org.
Please note:
Edventure: Frome use MailChimp as our marketing automation platform. By registering for this event or joining the waitlist, your email will be added to Edventure Frome CIC's mailing list, which you can unsubscribe from any time. Your contact information will also be shared with our event partners, for the purposes of communication about this event. We handle and process personal data in accordance with the Data Protection Act 2018