Future Shed Friday – Everyone Needs Pockets Textiles Reuse Network
Future Shed Fridays – A welcoming, weekly space to help bring green and healthy initiatives to fruition.
In this Future Shed we are focussing on textiles and clothing with the Everyone Needs Pockets Textiles Reuse Network.
Come along and connect with others to take action on growing projects and enterprises that reuse textiles, save carbon and landfill and increase our wellbeing: revamp, repurpose, reuse, repair.
Everyone Needs Pockets is a growing network of 150+ makers, designers, stitchers, knitters, sustainable fashion fans and researchers. You might be a mender, a maker or just someone who loves clothes. You don't need skills, only the desire to find out more!
There's a warm and friendly welcome, and there's usually between 15 and 25 people at these meetups.
Come to Edventure's Welshmill Hub for a 10am start.
Future Shed is part of Green & Healthy Frome, a partnership programme of Edventure Frome, Frome Medical Practice and Frome Town Council taking action on health and climate funded by the National Lottery's Climate Action Fund.
Future Shed is part of Edventure Frome.
Future Shed is about ideas and connections, collectives and enterprise – we are cooking up ideas and ventures to make real change around climate and wellbeing. This is a space to meet up, connect and build relationships to effect change. Come with your own idea, or join someone else's. It doesn't matter what stage you're at, whether you're already in the thick of a venture or just toying with an idea, or you're passionate about making a difference but not sure where to start? Everyone's welcome.
Future Shed timings & options:
9.30am – 1.30pm : Open for co-working for those working on green-health ventures in any form – use our professional co-working space and our workshop / makerspace and meeting room – for *free*. Our facilities include fast WiFi, fabulous ethical teas and coffee, and desks with beautiful plants.
Future Shed Lead (Sue Palmer) available to connect with you about ideas and opportunities for coaching and developing your initiative. We often have a meet up at 10am for an hour or so. It's up to you whether you join or not.
10am – 12 / 12.30pm: Meet Up – informal chat around the table that is usually focused on a theme e.g. food, reuse, health, to discuss the ideas and connections in the room and any support that can be offered from the Future Shed team.
Further support from Future Shed on offer:
🌱 free 121 coaching from a qualified social enterprise coach with a wealth of experience of starting social enterprises and community projects in Frome and beyond.
🌱 free 121 support to access funding from a Frome-based professional fundraiser with 25 years experience of working on both sides of the fundraising fence.
🌱 making connections with others across Frome who are focusing on wellbeing and climate action, who could help you open new doors, learn new skills and move your idea on a step.
If you'd like more information about what the Future Shed offers, contact Sue via sue@edventurefrome.org / 07434 898059.
Future Shed Friday sessions are hosted by Sue Palmer, Future Shed Lead.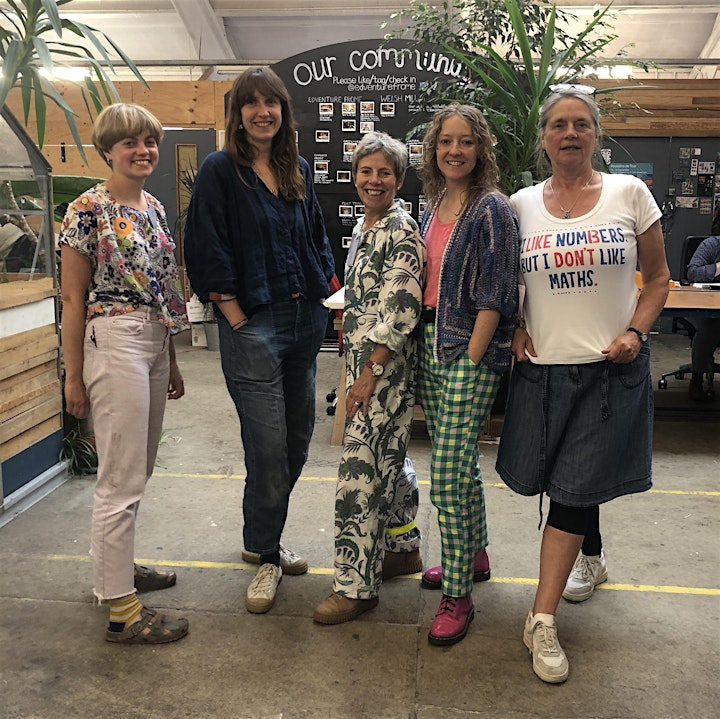 Facilities:
The Welsh Mill Hub is Edventure's professional shared workspace and community venue. It includes The Cave meeting room and Remakery Frome – a community workshop for fixers, makers and do-ers.
Marketing and email lists:
Edventure: Frome use MailChimp as our marketing automation platform. By registering for this event or joining the waitlist, your email will be added to Edventure Frome CIC's mailing list, which you can unsubscribe from any time. Your contact information will also be shared with our event partners, for the purposes of communication about this event. We handle and process personal data in accordance with the Data Protection Act 2018